Post by Sumi on Nov 19, 2012 16:54:27 GMT 5.5
As narrated by SivaSri Jagadeesa Sivachariyar, Pandanainallur
Source: Yahoo groups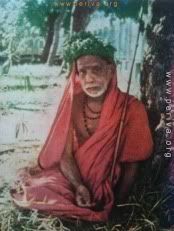 Devotees came running to me and said that tears were rolling down from the eyes of Vishnu Durgai of Pandadu Nayagi Udanurai Pasupathynatha Swamy temple, where I was performing pooja. It was 19th Feb 1986. I asked a girl child to sit as Vishnu Durgai and did Navakshari mantra japam and pooja. Then I asked Her 'what have we done to make you cry?' She said 'a girl child in a green long skirt (paavadai) said "unburden me" and disappeared'.
Then we did special abhishekam and aradhaani and the tears stopped. But, we did not know what was the 'burden' she mentioned.
So, naturally, we approached Periyava. He gave us 25litres of Ganga water, asked us to instill a lakh Navakshari mantra in it, do abhishekam with it and asked us to come back and see Him.
Four months after, after doing what He had asked us to do, we went to see Him at Orikai. We told Him that tears have stopped, but wanted to know what was the burden? Periyava thought for a while and asked 'Is the mandapam hitting the siras (head) of Durgai?'. I was doing pooja everyday , but could not answer Him immediately. I said that I will verify and come back to Him.
When I returned to the temple, I was stunned to see the ceiling touching the head of Durgai, as it had caved in due to cracks in walls. We went back and told Periyava about it.
Periyava said, 'take out Durgai, make a hole in the mandap above where Her Siras would be, reinstall Her and do 'kumbabhishekam'. We went back to Him again with the prasad, after doing everything He had said (Jan- Feb 1987, Kumbabhishekam) and He accepted it with joy. Then He said 'your village people are blessed. She cried to bless you all'.
At that moment, a rich Gujarati businessman came for His darshan. He turned towards us and asked 'how much money you will be spending on coming here and going back to your village?' We said 'Rs.300/-'. Then He asked the businessman to give us each Rs.300/- which he gave very gladly. He had great concern for us Sivachariyars who do pooja in temples. Periyava unburdened not only Durgai but us also.
Well, you too can pray to Him to unburden you.